Early days
The first form of modern hosiery – wrapping thin strips of animal skin around the legs – goes back to the very early days, not even determinable with numbers.
FIRST FORM OF MODERN HOSIERY
Around 100
Europeans replaced the skins they used to cover their legs with animal hair creating filaments of them for the first time.
ANIMAL HAIR
Around 400 – 500
Centuries before being discovered by the English, Egyptians have been wearing knitted socks.
KNITTED SOCKS
1100s
Vertical looms, which allowed to manufacture warps, created that typical diamond and chevron pattern of this era while the invention of horizontal looms started a huge change. With the entirely new possibility to weave pieces of fabric 98 feet (30m) long and 6,5 feet (2m) wide, clothing for the first time could be cut and fitted to the body.
WEAVE PIECES OF FABRIC
1300s
The first kinds of tights in various colors, with patterns and stripes paired with short flaring jackets were worn by girls and women all over Europe. These items were not approved by the church, however, because they showed every muscle and tendon of the wearer's legs. Still, doublet and hose became main components of the male wardrobe.
PATTERNS AND STRIPES
1500s
The true pioneer of tights as we know them today were actually leggings for men. In the very beginning attached at the belt, they were improved to become one piece of clothing by sewing a gusset in between. The invention of a machine for knitting stockings revolutionized the manufacturing of hosiery made from cotton, linen, wool or silk and when Queen Elisabeth I was presented the first pair of knitted silk stockings, she did not want to wear anything else again.
HOSIERY MADE FROM COTTON, LINEN, WOOL OR SILK
1560
Knitting was introduced and bias-cut fabrics have been replaced, which allowed for well-fitting hose. A ribbon below the knee or a simple form of cross-gathering made sure they would stay in place.
RIBBON BELOW THE KNEE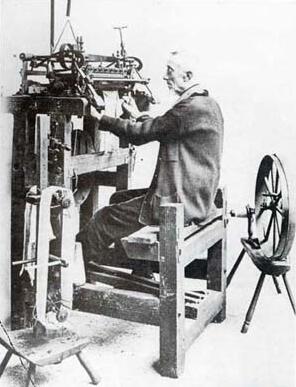 A stocking frame – the first sort of hosiery knitting machine – was invented by Reverend William Lee and almost took hand-knit hosiery completely out of the picture.
FIRST HOSIERY KNITTING MACHINE
1800s
Men more and more moved away from stockings and breeches to trousers and it slowly turned into a typically female feature.
A TYPICALLY FEMALE FEATURE
1860
The start of the industrial production of stockings made them widely available.
START OF THE INDUSTRIAL PRODUCTION OF STOCKINGS
1892
A group of three British chemists invented Rayon, which is one of the first man-made fibers.
FIRST MAN-MADE FIBERS
1910 - 1914
The clothing market experienced a revolution with the first reliable fabrics manufactured from Rayon filaments. They were comfortable, efficient to make and easy to dye, and in combination with acetate, they would make an even stronger and more convenient fabric which stayed in shape and did not wrinkle.
FIRST RELIABLE FABRICS
1920s
Legwear was back on the scene with the introduction of ankle socks.
INTRODUCTION OF ANKLE SOCKS
1938
Nylon was born and changed everything. Scientists led by Wallace Hume Carothers created Nylon for the chemical company DuPont. It was the first synthetic fiber and it combined extraordinary strength with elasticity.
NYLON
1939/ 1940
First only processed for filaments of toothbrushes, Nylon was used to manufacture knitted hosiery and stockings due to the fact that it was cheaper than silk, did not wrinkle around the ankle and added a beautiful sheen to the legs. At their start on May 5th 1940, DuPont already sold more than 5 million tights in the US. During World War II, however, DuPont had to stop their production of nylon stockings for creating parachutes, airplane cords and ropes which led to a shortage of stockings and a creation of a huge black market. When DuPont finally returned to the production of nylon stockings at the end of the war, they could not meet the demand – Macy's in New York sold all 50.000 pairs in just six hours – and the American press documented serious disturbances also known as the nylon riots.
50.000 PAIRS IN JUST SIX HOURS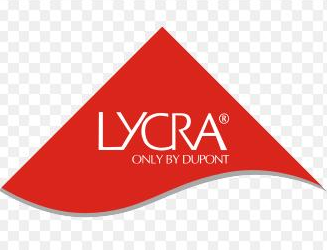 1950s
DuPont made another great invention. Lycra, also known as Spandex or elastane, replaced the use of rubber in order to achieve stretchiness. Clothing would stretch and rebound while keeping its shape. It dried even quicker, could be dyed easily and machine-washed as well.
LYCRA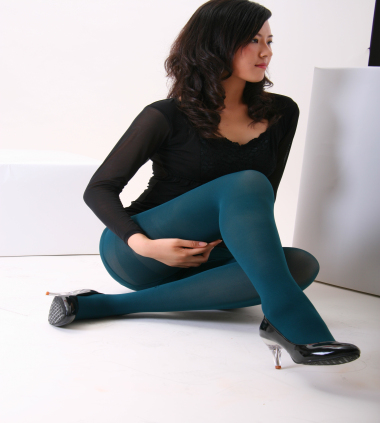 1960s
As the skirts grew shorter, women started enjoying more and more the benefits of thick tights. They chose tights for their comfort and convenience instead of stockings and suspenders and the way they moved and felt in skirts and shorts entirely changed.
BENEFITS OF THICK TIGHTS
1965

Pierre Cardin became the first designer who offered tights to women. They were opaque and available in various colors for the winter and white or patterned for the summertime. Mary Quant and Emilio Pucci followed quickly, either with numerous colors or well-known signature prints. By the end of this decade also diamond patterns, fishnets and deep natural tans emerged
THE FIRST DESIGNER
1970s
Lycra-mix leggings or hosiery became a serious fashion trend and essential for any girl hitting the dancefloor. In the late 1970s, ripped and torn fishnet tights paired with stilettos were used by press to make shocking impression and fashion statement at the same time.
A SERIOUS FASHION TREND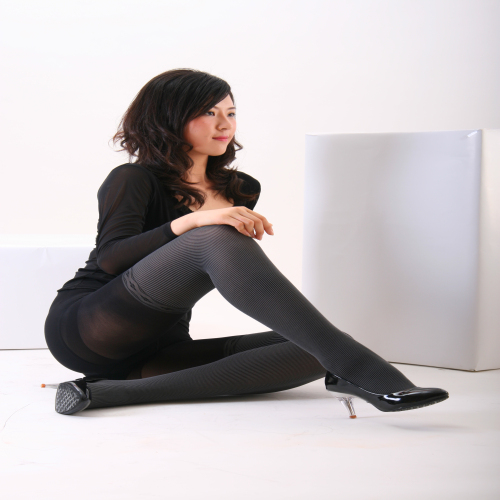 1980s
Woman were ready for more feminine and sexy tights, which led to a huge trend of lace, fishnet and dark or black opaque tights combined with tight miniskirts. Leading fashion designers also started to notice the benefits of Lycra for underwear and hosiery and worked with stretchy fabrics, e.g. Azzedine Alaïa for his body hugging stretch dresses.
LACE, FISHNET AND DARK OR BLACK OPAQUE TIGHTS
1990s
A new development caused even more women to fall in love with tights and their benefits as they were now available with control functions, which would shape the stomach, buttocks and thighs.
NOW AVAILABLE WITH CONTROL FUNCTIONS
As the years roll by, legwear remains a strong part of the clothing business, and always will... following all our innovations and trends, this is our goal!
STRONG PART OF THE CLOTHING BUSINESS